Rolling Stone : Stories from the Edge is a 4-hour, 2-part documentary from HBO about Rolling Stone Magazine. It tells the story from the magazine's start in 60's San Francisco and runs through the most recent US Presidential election.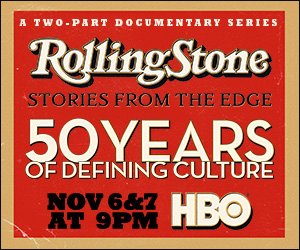 I remember liking RS in high school (which was the mid-late-80's ). My folks weren't Rolling Stone people but I have a friend whose parents were and I usually read it when I was at his house.
There was a lot for me to enjoy in this documentary:

A lot of it was also a handjob to Baby Boomers. I get frustrated at the way a whole generation will take credit for simply being alive when large cultural shifts happened. You know how that Dr. Dre and Jimmy Iovine show sure did a great job of telling us how important Dr, Dre and Jimmy Iovene were? This RS thing is kind of like that. Yes, the magazine had an effect on culture, but it's silly to suggest that it was a driving force of the culture.